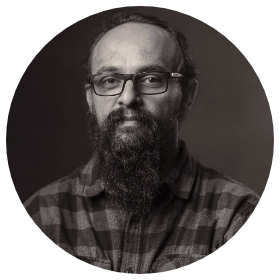 Photographer: Rix Mascarenhas
Location: Halifax, Nova Scotia
Industry: Commercial Photography and Videography
Location: Halifax, Nova Scotia
NAS Model: Drivestor 4 Pro
---
Says about how Drivestor 4 Pro played a crucial role in his Success story
"The ASUSTOR Drivestor 4 Pro is great value for money. It's not just private cloud storage, but also my work storage. I know that all my precious photos and videos are safely stored in it" – Rix Mascarenhas, photographer, videographer, editor and founder of Fotographiko.com
About Rix Mascarenhas
Rix Mascarenhas has been a professional photographer since 2015. Around that time, he started Fotographiko.com to help people to know more about photography and products related to the craft. Now he works as a commercial photographer and videographer at Jive Photographic in Halifax, Nova Scotia, Canada. One of Rix's major accolades was a book he published, named Saindo do Automático when he was still living in Brazil. Saindo do Automático guides people who want to learn how to take pictures in easy-to-follow steps as well as guides on photography equipment, composition and post-processing.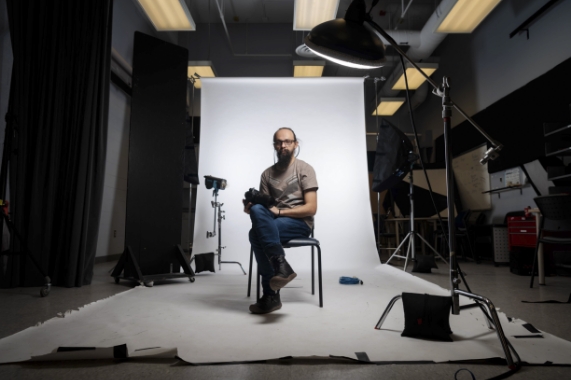 The Challenges he faced
All his files were saved on external hard drives and left in a drawer. The great disadvantage of this method is that it's not easy to find a specific drive when looking for information, wasting valuable time. The biggest challenge is allocating a large number of files, but also keeping these files within easy reach of his editors. A lot of time is wasted pulling hard drives out of the drawer and when one hard drive is occupied, other editors cannot access the data on that drive. A solution is needed to store multiple jobs and maintain easy access to team members, even if they aren't in the office.
---
The Solution Rix Looked For
With the increase in demand, his demands for storage have also increased, thus leading him to research new ways to improve his storage capabilities and more convenient way to share files between team members and clients. He was looking for a solution that was affordable and protected by warranty. Performance was also a factor, given that he works with large projects. Rix noticed most of NAS solutions arrive with only Gigabit Ethernet and would prefer something faster, yet affordable.

Rix also wants to be able to expand his capacity easily, either through the replacement of drives or through an easy-to-use archive system. He also wants to be able to access his NAS when he or his team members are not in the office.

---
Why use the ASUSTOR Drivestor 4 Pro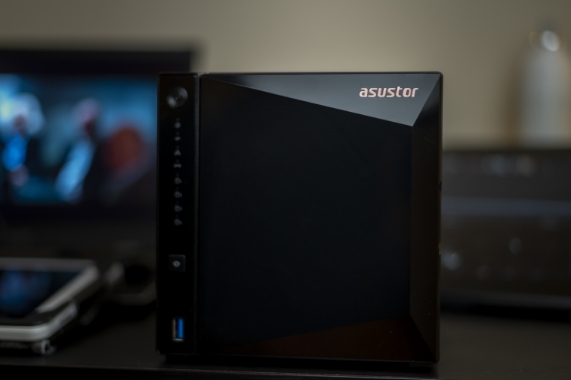 He took one look at the Drivestor 4 Pro and found it is the one for him. The ASUSTOR Drivestor 4 Pro keeps his files safe and gives extra protection against drive failure through redundancy. EZ Connect and AiFoto 3 allow his team members to access files when not in the office, showcases examples to clients and download/upload files when he is on the road working. The Drivestor 4 Pro is budget friendly, easy-to-use and reliable. With the Drivestor 4 Pro he can share work with his team members and is able to streamline certain tasks during post-production. Most of the requirements from a professional photographer are fulfilled:
Fast file transferring speed with 2.5GbE
Redundancy with RAID
Easy connect with EZ Connect function
Affordable
Protected with a 3 year warranty
Easy expansion with MyArchive
Able to use AiFoto3/AiVideos from access images and videos away from the office
What Changed After using a Drivestor 4 PRO
After using the Drivestor 4 Pro, Rix was able to have an office storage solution, all he needs is an internet link and it's off to the races. Armed with an internet connection, Rix simply needs to log into his ASUSTOR NAS with EZ Connect and he can transfer files to keep them safe in the office as well as free up more memory card space for new photographs or videos. When he is on the road, he can share data with other editors. He can also showcase projects more efficiently with the help of apps like AiFoto 3, helping to consolidate the work for multiple clients to multiple employees.
While working with Adobe Premiere to edit video and Da Vinci Resolve for color work, Rix finds that the Drivestor 4 Pro handles all of his needs. Now his workflow has totally changed. He doesn't need multiple external hard drives for multiple teammates. He can now utilize his Drivestor 4 Pro as the hub for all users. For Rix, it's not just a cloud system, but also his work storage and part of his peace of mind, knowing that he has multiple backups and hard drives working in redundancy inside is ASUSTOR Drivestor 4 Pro.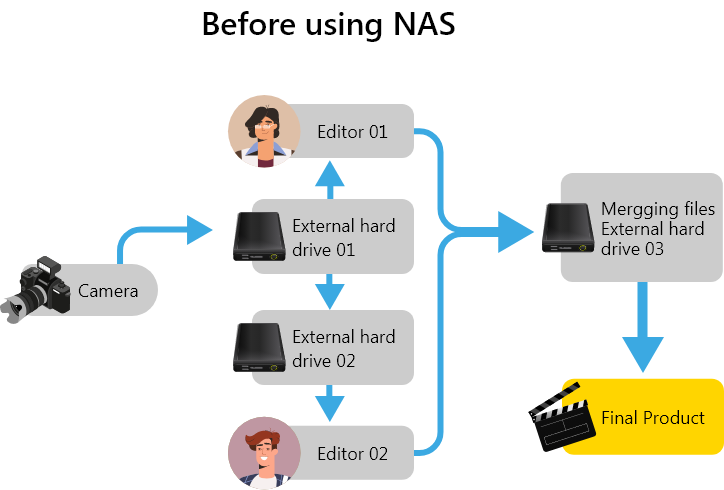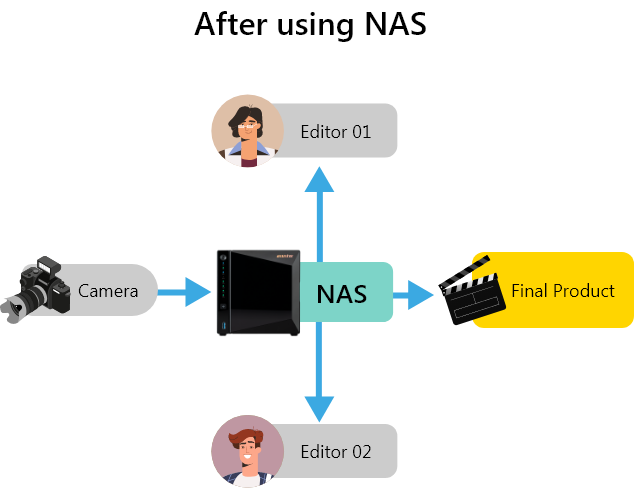 ---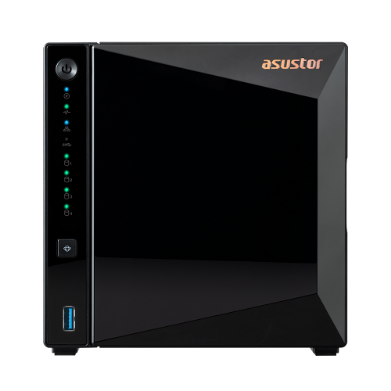 ASUSTOR NAS Advantages
Backup Plan
MyArchive
USB external backups
Scheduled backups
Easy to use
Photo Gallery 3 & AiFoto3
Easy sharing
Wide variety of apps
Quiet and efficient
Streams videos to a web browser