Micron Solid State Drives (SSDs)
Turn data into insight and analysis into action. Micron Storage is powering the mobile workforce, cloud and immense data centers of today and tomorrow. Our client SSDs bring groundbreaking, fast NAND performance, low power, small size, and optimum portability to client computing applications. Scale to meet cloud and data center demands. Micron SSDs deliver performance, reliability and data protection, all with power savings over hard disk drives. Our automotive and industrial SSDs deliver high capacities and industrial temperature options in several small form factors.
The volume, variety and velocity with which we generate new data today is unparalleled. Micron understands the importance of providing the right capacity SSDs to manage today's demanding workloads. Feed data-hungry, real-time-processing applications faster than before.
Micron offers NVMe™ over PCIe™ SSDs maximized with fast throughput and low latency for even the most challenging workloads. Micron offers Enterprise and Client SATA SSDs that enable a smooth transition from rotating media to flash.
For Configuration & Technical Assistance Contact:
Micron 2300 SSD with NVMe™
The Micron 2300 SSD combines the power and density needed to drive workstation applications with the compact form factor and power saving features demanded by modern mobile users. Adaptive power management delights customers with longer battery life and performance on demand.
A Micron-developed controller, innovative 96-layer 3D NAND, and firmware deliver higher densities, increased throughput, improved endurance, and power efficiency backed by Micron's proven quality. The Micron 2300 SSD is intended for applications that demand high performance and industry-leading capacities up to 2TB1. Client devices will benefit from Micron's light and small design, optimized power consumption and robust security.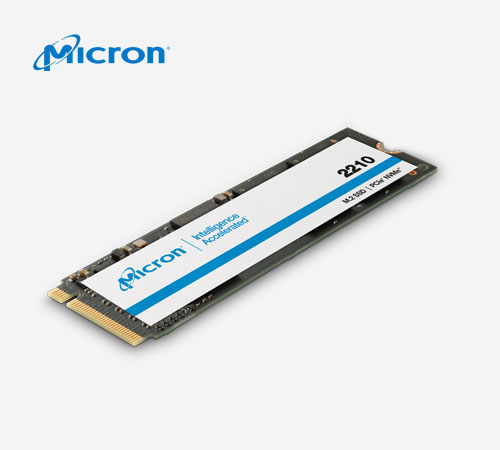 Micron 2210 QLC SSD With NVMe™
For the first time Micron has combined the benefits of fast NVMe™ performance with Micron's leadership in QLC value in the Micron 2210 QLC SSD with NVMe to offer flash capabilities at HDD-like price points. This SSD is designed for the most data-intensive needs, with capacities up to 2TB. In addition to the high-density, cost-efficient QLC architecture that Micron innovated for the data center, the Micron 2210 QLC SSD includes custom Dynamic Write Acceleration, smart power efficiencies, and advanced security with TCG Opal 2.0 and Pyrite 2.0.
Offered in the popular M.2 form factor, the Micron 2210 SSD includes end-to-end data path protection, power loss signal support, and secure firmware.
2200 NVMe™ SSD
Get blazing PCIe® speed and low power consumption for demanding client workloads with the Micron 2200 PCIe NVMe™ SSD. Sleek, light and lightning-fast, the Micron 2200 PCIe NVMe™ SSD is revolutionizing computing on the go. The Micron 2200 delivers our first client NVMe SSD, ideal for intense computing workloads. The 2200 is fully architected by Micron using 3D TLC NAND technology for cost and power efficiencies.
Available in a streamlined M.2 form factor, the Micron 2200 SSD enables high performance in the 256GB "sweet spot" and capacities up to 1TB. Its 64-layer TLC 3D NAND architecture, PCIe interface and NVMe protocols enable low latency and high bandwidth with a strong price-to-performance ratio. Protect your data with the Micron 2200's secure firmware and AES XTS-256-bit encryption with Opal 2.0 standards for self-encryption.
1300 SATA TLC SSD
Get exceptional price-to-performance ratios, experience extremely low power consumption and protect valuable data with the Micron 1300 SATA SSD, ideal for client computing.
Experience the high performance of 3D NAND technology while remaining power-efficient and protecting valuable data with the Micron 1300 SATA SSD. The Micron 1300 SSD makes flash storage compelling for client computing thanks to advantageous price-to-performance ratios. With its dense 96-layer TLC architecture, the 1300 SSD offers capacities up to 2TB in M.2 and 2.5-inch form factors. Increase density and capacity while controlling costs and power usage with Micron's industry-leading 96-layer 3D TLC NAND technology.
Micron 9300 SSD
Meet the demands of your performance-critical workloads with the speed, performance and capacity of our flagship performer, the Micron 9300 SSD with NVMe™.
With data centers deploying advanced cloud infrastructures and demanding high capacity and fast performance for AI training and inference, data-intensive workloads demand consistently fast throughput and immediate access to data. The Micron 9300 delivers industry-leading sequential write performance with the lowest average write latency on the market. Accelerate your data center to meet today's growing data demands.
Micron 7300 SSD
Get the fast, low latency and consistent performance of NVMe SSDs across your entire data center with the Micron 7300 SSD with NVMe™.
Data Center IT and cloud managers want the fast, low latency and consistent performance of NVMe storage that won't break the budget. The Micron 7300 leverages the low power consumption and price-performance efficiencies of 3D NAND technology, delivering fast NVMe IOPS and GB/s for a wide array of workloads.
96-layer 3D TLC NAND offers low power and designed-in cost efficiencies. Leverage the low-latency and high-performance combination that the cloud demands.
Micron 5300 SSD
Maximize your data center with the performance, consistency, and expanded data security of the Micron 5300 SATA SSD.
Built with Micron's innovative 96-layer 3D TLC NAND, the Micron 5300 combines the latest in NAND technology and a proven architecture to provide performance upgrades now and a path forward for moving to an all-flash future. The Micron 5300 offers high capacity, added security, and enhanced endurance to enable strong performance.
Secure your data with power-loss protection, and data center-grade data path protection along with optional TCG Opal 2.0, TCG Enterprise, and AES 256-bit encryption. Expand your capability with the industry's first 96-layer 3D TLC NAND in the data center.
5210 SATA SSD
Get fast capacity for less with the world's first quad-level cell (QLC) SSD, the Micron 5210 ION data center SATA SSD. Created for the data age.
Turn analysis into action like never before with the Micron 5210 ION SSD. The Micron 5210 SSD delivers the speed needed at the right price to unshackle read-intensive workloads from the slow performance of HDDs. Real-time analytics, big data, media streaming, block and object stores, and data "lake" queries that feed artificial intelligence and machine learning can all benefit from your ability to deliver insights and intelligence at the speed of now with the Micron 5210 SSD. Whether you're querying a 10TB SQL database, streaming content and adjusting to traffic.
5200 SATA SSD
Optimize your business-critical virtualized workloads the easy way — with the industry-leading performance, reliability, capacity and infrastructure value of the TAA compliant Micron 5200 series of SATA SSDs.
There's an easy way to speed up business-critical workloads that cripple on hard drives: The Micron® 5200 series of SATA SSDs. Engineered on industry-leading 64-layer 3D NAND, the Micron 5200 SSD delivers best-in-class performance and capacity on the same proven architecture as the 5100 series. Designed for virtualized server workloads that power your business, such as OLTP, BI/DSS, VDI, block/object, and media streaming, the low-latency Micron 5200 SSD eliminates storage bottlenecks with fast, consistent performance — and a lower total cost of ownership.